I knew I had a problem when I felt that I had to stop going into bookstores altogether. I was avoiding bookstores like a dieter avoids bakeries. It was just too dangerous. It was almost impossible for me to leave a bookstore without buying a book or two. Dollar bins were a joyful nightmare. I limited my purchases each time, but they still kept adding up. It had nothing to do with money (since I wasn't paying attention to my spending back then.) I just didn't have the space. I couldn't read them all. And when I did read them, then what? It's not like I could throw a book away. It just sat on the shelf and collected dust. And I hate to dust.
Now I have thousands of books and I don't spend a dime! I have plenty of space and don't have to pack them up each time I move. The answer was really very simple: the library.
Why the library
I have thousands of books at my fingertips at the library. If my library doesn't have the book I want, there's a good chance another library in the network will have it. If no one has it, I can request that they buy it and they often will! They don't have every book that I want to read, and that's ok. I can still choose to buy it, but usually I find that I have more than enough books to read already.
And it's not just books! They have audio books, videos, and music. The library is a quiet place to read, think, and work on writing my book. They have photocopiers and free internet access. They have book clubs, game clubs, and more. It's one of my favorite places! (Ok, yes, I'm a book nerd. But hadn't you figured that out from the first paragraph?) Thank you Benjamin Franklin!
Good ole ebooks
Now of course, ebooks would have solved my problems of having too many physical books. But around the time ebooks became popular, I began to notice the effect of books on my wallet. As I bought fewer books, I noticed the savings and I knew it would be too easy to spend a small fortune in 99 cent increments, so I promised myself I would only get free ebooks. That promise became a lot easier to keep when the library started offering kindle ebooks!
I still prefer to read from physical books, but ebooks can be great too. I read ebooks when the physical book isn't available, when the physical book is too heavy and cumbersome to carry around (because I always carry a book with me,) and when I just can't get to the library to pick up the book I want and I don't want to wait another week to start a new book. I have nothing against ebooks. Hell, I'm writing my own right now. And if you want to "buy" it when it's first released and I'm giving it away for free for a few days, that's great!
Adding up the savings
There's no way to know for sure how much I've saved over the years. Looking at my library borrowing history, though, I'd guess that over the last 6 years of reading 20-40 library books and ebooks per year I've saved around $3800! That's a lot of money that I'm glad to be spending on other things!
How much do you think you could save? Use this free calculator to find out!
What about all those books I already had?
I kept a few dozen books. I kept some of the reference books and cookbooks. I kept a few books from my childhood that have sentimental value and some other books that I love to reread every couple years. I kept about a dozen novels that I haven't read yet but that I want to read. Each time I finish one of those I donate it, so that shelf is slowly getting emptier.
Bit by bit I started getting rid of books a few years ago. I gave them to friends and brought them to book swaps. I sold old text books on ebay and Amazon (yes, people actually bought them!) But I still had too many books. So last year I'd had enough and I carted a whole bunch of books to the library. They collect donated books and sell them in yearly book sales which raise money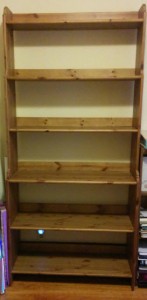 for the library. I love that, because I'm able to support the library, which is what has allowed me to stop buying books in the first place! If you're looking to get rid of books that you won't read again, check with your local library to see if they'd like them. It felt so good to get rid of those books.
Then a few months ago I was working on decluttering my apartment and I decided that was it. I was drawing a line in the sand. I was done! It was time to get rid of my big bookcase (yup, that one in the photo) and that meant getting rid of more books. I would keep a few that I really wanted but the rest had to go. Off they went to the library!
In the last year I got rid of about 200 books. (Just a few are in the graphic at the top of this post.) I have no idea how many I got rid of before that.
I thought I'd miss them, but the truth is, I'm loving this! I have more space, more money, and more reading options than ever! What's not to love?
Do you have trouble letting go of books? How have you handled it? Are you a library fan too? Please share your thoughts in the comments!